The district called Heumensoord is a natural area south of Nijmegen, which is planted with foliage and needle trees, heaths and matgrass swards. The district is located on the west side of the glacial till, like the ground of the Radboud University Nijmegen and the Radboud Hospital. This glacial till has been formed from coarse gravel-containing sand, interlayered with thin silt sediments, that are stacked horizontally without significant topography (more on the
geology
on the Dutch side).
The district Heumensoord exceeds 500 hectare and it is administered by the municipalities of Nijmegen and Heumen. Besides forest management that partly aims to restore the natural wood plantation, grazing is applied (more on
vegetation
in Dutch). Since 2002 a herd of about 250 heather sheep from the Kempen feeds on these fields. In the heather area of the Maldens plain, in which old oak scales can be found, rather rare heather organisms occur, like some lichens, Clover Dodder, the Whitethroat, Yellowhammer, Nightjar, Long Eared Owl, Patridge and Sandlizard. Many species of insects have their biotope in remnants of dead trees. Heumensoord is a known for the diversity of mushrooms that canbe found in automn in woods and hay. Furtheron, water is pomped out of the deep layers of Heumensoord'soil for drinking water supply.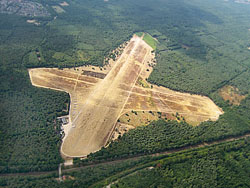 Gliding center Malden in Heumensoord. Aerial view madeby Björn Berings (used with permission)
In the district two
walking routes
and a
mountain-bike circuit
have been traced and there are riding paths (
photo
) and plenty of small trails where one can jog. The
gliding center Malden
is located in the middle of the woods (on maps and in aerial views the typical cross-shaped landing way can be recognized; see pictures here left). In summer Heumensoord is the
headquater
for military personnel from numerous countries who participates to the Nijmegen
Four Days Marches
(
Information
in English for army personnel). At the edge of the agglomeration of Malden a garden for
native wild plants
has been developed. This beautiful parc displays how life on the countryside in this region was organized one century ago: a piece of land as field, grassland, heather for the sheep, a hay and thicket for protection, combustion and construction wood, a vegetable and herbs garden and a place for bee hives (more information on the
wild plants garden Malden
).