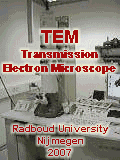 Further information and images on preparation in TEM
Electron microscopy (EM) allows one to visualize objects that are as small as 1 nm (one nanometer is equal to one thousand of a micrometer, is one million of a millimeter or one billion of a meter). To produce an image the sample is bombarded by a beam of electrons.

Globally, distinction is made between two EM techniques:


Transmission Electron Microscopy (TEM). TEM allows one the study of the inner structure and contours of objects (tissues, cells, virusses)


Scanning Electron Microscopy (SEM). SEM is applied to visualize the surface of tissues, macromolecular aggregates and materials.

More on how an EM works...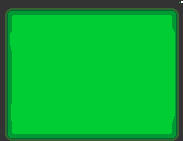 To the virtual FESEM simulator and various examples of applications of a SEM.