On this pages the early embryological stages in sea urchin are illustrated by stained
in toto
preparations of several embryonic stages. This webseries containing microscopical preparations supports the courses on embryology of the teaching program in Biosciences at the Radboud University. PROCEED TO NEXT WEBPAGES.
Poster on the embryology of the sea urchin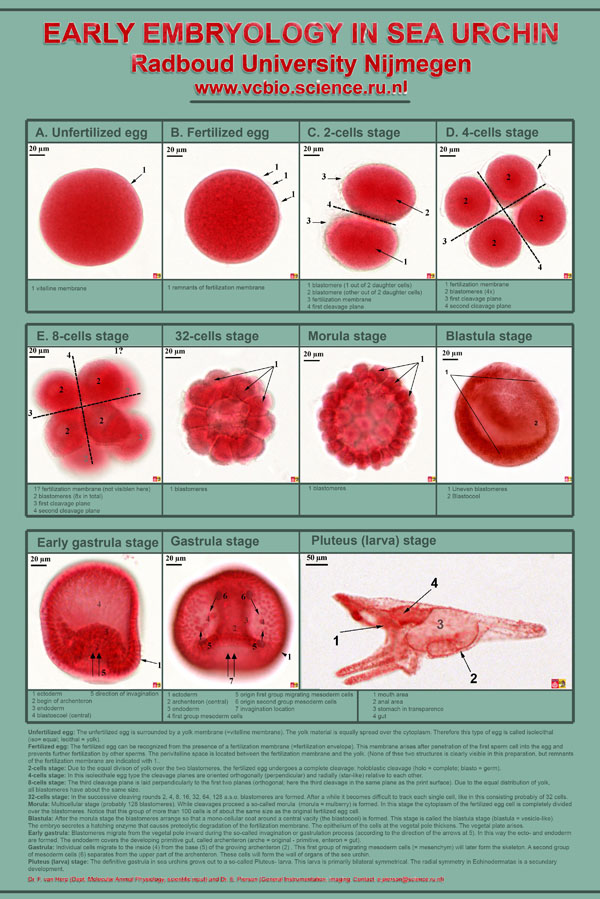 Download a full resolution poster (format jpg; 3000 x 4500px; 2 MB)
The following persons have been involved in the production of these webpages: F. van Herp (Associate professor; Department. of Molecular Animal Physiology), E. S. Pierson (General Instrumentation) and W.L.P. Janssen (General Biology), all from the Radboud University Nijmegen. S. Kolk is currently in charge of the teaching of this topic.
The Radboud University Nijmegen has all
copyrights
on the micrographs and other image material, but use of the material and notes is encouraged (please, mention the source).